Exoto #: GPC97198
Reg Parnell was a successful racing driver, both before and after WWII. Never a factory team driver, he was a talented privateer nonetheless, actually scoring a third at the 1950 British Grand Prix. The British driver typically raced on home ground. In 1954 he piloted an updated Type 500/625 for Scuderia Ambrosiana at the British Grand Prix, in which he suffered technical difficulties. More impressively, he scored outright victories in no less than five non-Championship F1 Grands Prix... all on British soil! Exoto's replica features Parnell's Type 500/625 as it appeared at a wet Aintree circuit in 1954 for the Aintree International 200!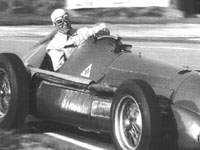 An outgoing character with a reputation as a dashing driver, Reg Parnell was almost 40 by the time he finished third in the first F1 Grand Prix at Silverstone in 1950 (the two drivers ahead of him were even older) and already had forged an impressive reputation in motor racing both before and after the war. In all, he competed in six races, all in different cars, between 1950 and 1954 and he continued to race in non-championship F1 races until 1957. He was also known as the uncrowned king of the Goodwood circuit in Sussex, so often did he win there.
In 1957 he took over the team management of Aston Martin and guided them to the world sporting car championship in 1959, the same year the car won at Le Mans. In 1961 he went into F1 team management with some success, John Surtees finishing fourth in the drivers' championship in 1962 in his Lola Mk4 with two podium finishes. Away from F1, he also managed the Aston Martin Le Mans-winning team. He was in the process of setting up his own outfit when he died from peritonitis following an appendix operation.